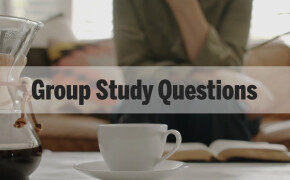 Week 14 - Romans 5:1-11 
Week 14 - Romans Series
Sermon-based Growth Group Questions
Introductory Discussion:
What was "the takeaway" (the most important point) from Sunday's sermon and/or the sermon text, in your opinion?
What insight from Sunday's sermon did you find most helpful, or eye-opening, or troubling (pick any or all of the above)?
Read Romans 5:1-11
Discussion:
When have you seen someone suffer well? Meaning, someone who has endured suffering in a way that honors God? Why do you think they were able to endure in such a way?
What is the worst suffering you've experienced? What has God taught you through it?
In your own words, what does it mean to be "justified by faith?"
What benefits are ours as a result of being justified by faith? (vs. 1-5)
How are suffering, hope and God's love interrelated?
What words in verses 6, 8 and 10 describe what we once were in God's eyes? How does the death of Christ change this relationship?
As you read verses 9-11, what tone of voice do you hear Paul using? Why?
Compare verse 9 with 3:25 and Leviticus 16:3-16: How does this Old Testament ritual illustrate what Christ did on the cross for believers?
What three words best describe your life before you were a Christian? How about now? Why the change?
Prayer: Take time to pray together as a group.