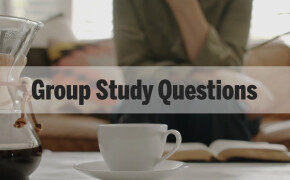 Romans 7:1-6 
Week 18 - Romans Series
Sermon-based Growth Group Questions
Introductory Discussion:
What was "the takeaway" (the most important point) from Sunday's sermon and/or the sermon text, in your opinion?
What insight from Sunday's sermon did you find most helpful, or eye-opening, or troubling (pick any or all of the above)?
Read Romans 7:1-6
Discussion:
What images and feelings do you associate with "marriage"?
After "death and life" and "slavery and freedom," what new image is used here? How does this image help you understand your relationship with Christ?
What did the law actually produce in those who tried to live by it? How has Jesus changed this?
What would "fruit for death" look like compared to "fruit for God"?
Do you feel more "married" to the living Christ who frees us, or to some religious code that reminds you how you have failed?
In your own life, what does "fruit for God" look like compared to "fruit for death"?
If you try to serve God by keeping all the Laws in the Old Testament, what happens over time? Can a person keep all the Laws perfectly?
What is the difference between serving God in 'the newness of the Spirit' and serving God 'in the oldness of the letter'?
Prayer: Take time to pray together as a group.