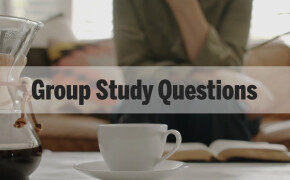 Week 22 - Romans 8:12-17 Sermon-based Growth Group Questions
Week 22 - Romans Series
Sermon-based Growth Group Questions
Introductory Discussion:
What was "the takeaway" (the most important point) from Sunday's sermon and/or the sermon text, in your opinion?
What insight from Sunday's sermon did you find most helpful, or eye-opening, or troubling (pick any or all of the above)?
Read Romans 8:12-17
Discussion:
Since we are not set right with God by doing good works, what is the motive for changing our lives?
How do verses 13-14, 6:13 and 6:19 together show how we are to deal with our sinful nature?
What does he mean by the phrase "by the Spirit" (vv. 13-14)?
When did you first realize that you needed to turn control of your life over to the Holy Spirit? What happened when you did?
As you look back over the past week, give a practical example of a way you have been led by the Spirit of God (Romans 8:14). [It's not "bragging" because it is God's Spirit leading you.] Give an example of a time when you didn't respond to the Spirit's prompting
The Bible speaks of many privileges God's children enjoy. If you are God's child, what are three aspects of being adopted into God's family that you especially cherish?
Prayer: Take time to pray together as a group.