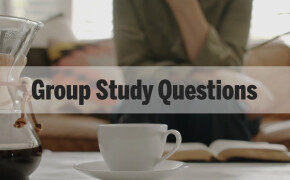 Week 10 - Romans Series - Romans 3:9-20
Week 10 - Romans Series
Sermon-based Growth Group Questions
Introductory Discussion:
What was "the takeaway" (the most important point) from Sunday's sermon and/or the sermon text, in your opinion?
What insight from Sunday's sermon did you find most helpful, or eye-opening, or troubling (pick any or all of the above)?
Read Romans 3:9-20
Discussion:
Have you ever had someone expose something you did that you were trying to hide? How did you feel about yourself afterwards?
Whether the "we" in verse 9 represented Paul's Jewish fictional character and their feeling of superiority to Gentiles, or it was Paul and his Christian associates; What does Paul say they have in common?
From verses 10-18, list what is said regarding human thought, direction, speech and action. How do you relate to this list and how does that make you feel?
How do verses 18 and 1:20 prove Paul's point that the whole world is accountable to God?
From verse 10 would you say that the law is descriptive (like a doctors' thermometer) or prescriptive (like medicine to a sick patient)?
When did you first really sense your sin and need for God? What motivated you to turn to God?
What can you learn about witnessing from Paul's example in chapters 2-3? What types of people today may need to be approached like this?
Rate yourself on a scale of 1 to 10 concerning your knowledge of Scripture. What steps are you going to take to move one mark closer to 10?
Prayer: Take time to pray together as a group.