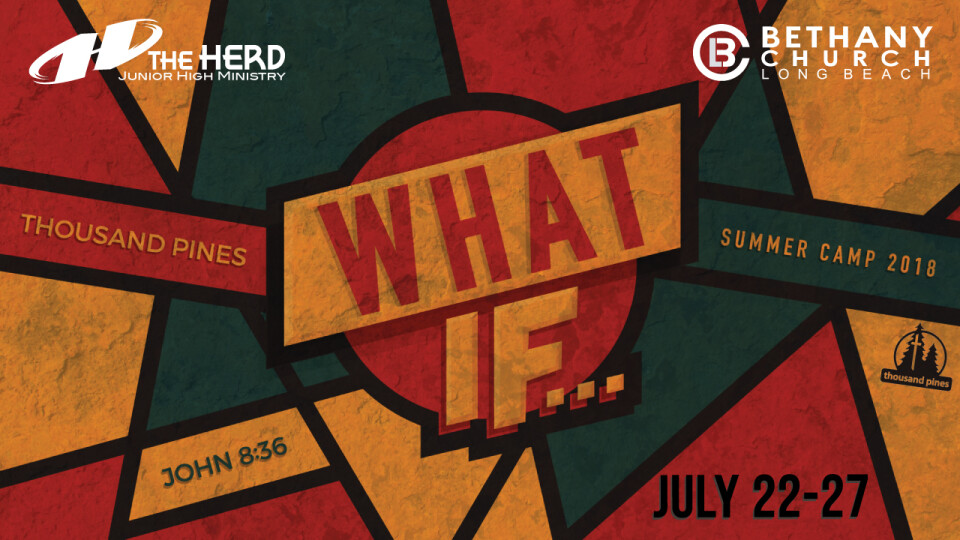 Sunday, July 22, 2018, 12:00 AM - Friday, July 27, 2018, 12:00 AM
Summer Camp 2018
Theme:
WHAT IF…
What if what God says is true? What if what we read in the Bible is true?
If it is, that changes everything. It changes how we have a relationship with ourselves and God, and how we understand who God is. Ultimately, it changes everything. This summer we are going to unpack what it means to be "free indeed" by asking a different "What if" question every chapel. We look forward to seeing you this summer!
Verse:
"SO IF THE SON SETS YOU FREE, YOU WILL BE FREE INDEED." - John 8:36
Dates:
July 22-27
Thousand Pines Overview:
To the Mountains! Thousand Pines is a phenomenal place for students to get away from the everyday distractions and into the quietness the mountains has to offer to learn more about who God is. From outdoor activities, energetic recreation, to exceptional speakers, inspiring theme and impactful worship, your time at Thousand Pines will make you want to come back for more! The relevant programming and passionate staff will help ensure that your time at Thousand Pines will be life changing.
Website: thousandpines.com
Free Time Activities:
Paintball, Skate Park, Mountain Bikes, Art Shop, Malt Shop, Big Oak Café, Underground Rec Den, Ropes Course, Zipline, Swimming Pool, Archery, BB Guns
Mega Mega Day:
Costumes & Face Paint Rec Day!
You will want to deck out to win huge points for your team by dressing up in costume and such for this recreation day. More info to come on theme, color, etc.
Cost:
To sign up you will be required to pay a deposit of $150 or the total cost of the camp, which is $460.
If money is a reason not to attend camp please contact Derek Freed, or (562) 597-2411. We have scholarships to help if needed. We don't want any student to miss out on camp because of money.
To Sign Up please CLICK HERE.