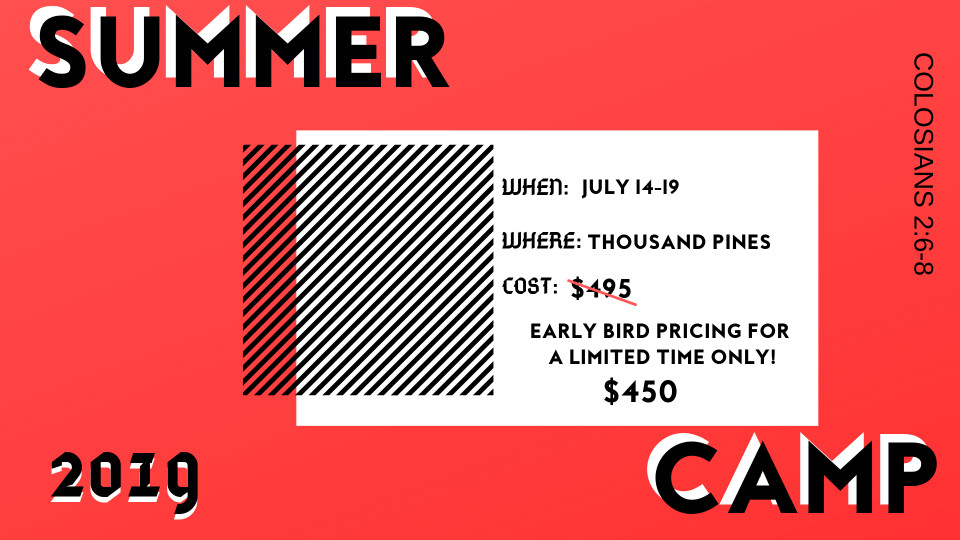 Sunday, July 14, 2019, 12:30 PM - Friday, July 19, 2019, 1:00 PM
The HERD Summer Camp
The HERD's 2019 Summer Camp theme is DRIFT. Students are going to learn how to prevent themselves from drifting in their faith. Reminding them and encouraging them to stay rooted, grounded, and established in Christ.
Thousand Pines Camp Info
Camp is the best part of summer. We will be spending time together in worship, challenging messages, small group talks, games, and tons of free time activities. Free time games and activities include swimming, zip-lining, skate park, paintball, archery, and much more. Thousand Pines is a perfect place for students to connect with one another and grow in their relationship with Christ, and go into the school year with a stronger relationship with Him.
Cost:$495
This includes the cost of camp, meals, and transportation. Students will need money for lunch on the way to and from camp.
We suggest you send your student with a little extra money since some things at camp do cost money such as paintball, snack shack, and the gift shop.*** If money is the deciding factor on your student attending camp, please contact us and let us know the situation. We do have scholarships available for students that need financial help to get them to camp. Our heart is that no student would miss our on camp do to financial reasons. If you are in need of a scholarship please email Pastor Mike directly at
Dates & Times
Camp is from July 14-19. We will be meeting in front of the church on Sunday, July 14 at 12:15 PM. We will be returning back in front of the church on Friday, July 19 at 1 PM. We will keep you posted on return times via text message and social media.
Registration
There are limited spots for camp so get signed up ASAP.
For a limited time only, early bird pricing is $450. Get your deposit in before this offer is gone. Deposits are non-refundable.