I Am Thankful For Adventures!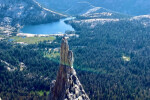 I Am Thankful For Adventures!
I'm not the most adventurous person I know, but I love getting out into the great outdoors to explore, hike, climb, or just revel in the beauty of God's amazing creation! This past year, I had the joy of climbing Eichorn Pinnacle on Cathedral Peak with my brother for his 40th birthday! (Look closely, we're in that picture!)
John Muir once wrote this while camping near this impressive peak in the Tuolumne Meadows area of Yosemite: 'Yonder, to the eastward of our camp grove, stands one of Nature's cathedrals, hewn from the living rock, almost conventional in form, about two thousand feet high, nobly adorned with spires and pinnacles, thrilling under floods of sunshine as if alive like a grove- temple, and well named "Cathedral Peak."' It seems universal to be turned towards the supernatural when witnessing some of creation's most beautiful and immense pieces.
Psalm 121 shows us as believers that it is healthy and wise to have that heavenward focus when looking at a grand mountain peak: "I lift my eyes toward the mountains. Where will my help come from? My help comes from the Lord, the Maker of heaven and earth."
That may be why I am thankful for adventure. Because whenever I make the time to get outdoors, I am always filled with reminders of God's power, His goodness, and His loving relational presence in my life. It helps me remember how small and how dependent on God's grace and loving care I am. It helps me experience joy knowing there is a God in heaven that is sovereign and worthy to be worshipped and submitted under. I am thankful for all of this!
After climbing Cathedral, my brother asked me what I want to do for my 40th… (coming up way too soon). I'm not sure yet, but I am already looking forward to it because I know God's grace will meet me there too! Even though I'll be turning 40!