The Elders are honored to introduce you to the candidate for Lead Pastor, Pastor Benjamin Overby.
You can read the announcement of Pastor Overby's Candidacy by clicking here.
Pastor Overby has a BA in Speech Communication and Biblical Studies from Ouachita Baptist University and a MA in Cross Cultural Studies from Dallas Theological Seminary. While he has been in ministry for over 20 years, for the past seven years, Pastor Overby has served as the lead pastor of Brentwood Bible Church in Austin, Texas.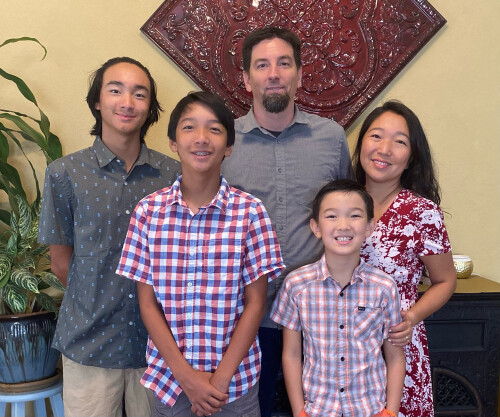 The Overbys are a family of five. Pastor Ben met his wife Kcathy when they were both serving on a summer missions team, working at a camp outside of Austin. Kcathy & Ben married 21 years ago, after Ben graduated from college and have lived most of their married lives in Austin. They have three sons. Drew is a sophomore at Texas State University; Micah is a freshman in high school; and Eli is in 5th grade. The Overbys enjoy traveling and spending time in the outdoors, especially where they can hike together in the mountains and beautiful scenery. As theirs sons are involved in marching band, the family also enjoys sporting and marching band events. Pastor Ben makes time for sports on his own, as well, including basketball, soccer, and golf. He also spends free time figuring out how to fix and build things, partly out of fun and partly out of a desire to save money by fixing his house and cars on his own.
Ben was born in Little Rock, Arkansas. He spent most of his childhood in Lufkin, TX, but also lived in California and Illinois. Ben has two brothers and a sister. Ben participated in a lot of sports growing up, and ultimately chose to focus on basketball, which he played in high school and into college. When he was five years old, Ben's mom led him to the Lord and he accepted Christ as his Savior in his room within the family home. His walk with Christ grew and deepened during his teenage years and he made the decision to be baptized when he was thirteen years old. Just after his high school graduation, Ben sensed a call by God into full-time vocational ministry.
After hearing God's call on his life, Ben was not exactly sure what full-time vocational ministry would look like. But what he did know was that God was leading him step-by-step along the way. His ministry career started with a sports ministry. Ben accompanied basketball teams to Capetown, South Africa, to play against local teams and offer sports clinics at schools and in the neighborhoods. Because the basketball teams were from America, this offered them a platform and opportunities to share the Gospel with hundreds of people. The sports ministry led naturally to youth ministry and Ben served as a youth pastor in churches in Smithville, Texas and then Lufkin, Texas, where he grew up. Then God began to grow within him a desire to see new churches planted, specifically multicultural churches.
After completing seminary, Ben became the Executive Pastor as a small church plant in Austin, where he used his God-given gifts of strategy and administration to help implement new ideas to reach their community. The church grew in number from the original 75 to over 350 people. Once the church was more established the roles of staff began to change and evolve. As this happened, Ben began to process what this new role would mean for him and if it was the best fit for long term ministry. As a result, Ben began to pray and seek God as to what his next steps should be. The elders of his church confirmed what God had been pressing upon Ben's heart: God was calling Ben to be a Lead Pastor.
Soon thereafter, Ben accepted the call to become the Lead Pastor of Northwest Baptist Church in Central Austin. But, as is often the case, God would use this position in unexpected ways. Northwest Baptist was an older congregation that was growing smaller and smaller. They needed help reaching the next generation, which included the community directly surrounding their building. God used Ben's unique gifting and his heart for the lost to see new people and new life come to the church. Once the pandemic hit, the growth and momentum that had started to grow the church was halted. Pastor Ben led his congregation to seek God's wisdom and direction for the best use of their resources and what would be next for their church. After much prayer and discussion, God let them to merge with another church, eventually handing over the building and ministry to the growing church which had influence in the neighborhood and which was filled with young, vibrant families. While merging his church may have worked himself out of a Lead Pastor position, Pastor Ben was more concerned about the kingdom of God being expanded and the church growing its influence in a community that desperately needs Jesus. It's this kind of devotion to God's kingdom that has led Pastor Benjamin Overby to Bethany Church.
In considering the move to Long Beach, Pastor Ben has a kindred heart for legacy of Bethany's strong theological foundations and its commitment to preaching God's Word. He is excited about the church's diversity and the potential for reaching the diverse community of Long Beach. His own heart for missions is drawn to Bethany's longstanding support of local and global missions. Pastor Ben looks forward to working alongside the leadership of the Elder Board and the strong team of staff already serving God by serving the Bethany family. On another note, Pastor Ben and the whole family are very excited at the proposition of enjoying California weather, since Austin has seen 100+ degree temperatures regularly for most of the summer.
Please pray for Pastor Ben, his wife Kcathy, and their boys Drew, Micah, and Eli. Pray that God would give them continued clarity and discernment. Pray for them to be wise and full of grace as they consider this big transition from Texas to California. Pray for their sons to continue to see God's good plan and the blessing that comes in following God's calling and leading.
Hear Pastor Ben's Heart for Ministry
Participate in the Process through the Events listed Below